Lex Luthor's character has taken radically different forms across history and across media: the nearly-tragic take you can find in Smallville, the swindling con man in the Reeves movies, the almost-unflappable megalomaniac (and president) in the animated series. All of these takes and more can also be found in the history of the comic books (including a while where he had a magnificent mane of red hair and was dating Supergirl).

More recently, Lex master-minded the destruction of New Krypton, the artificial planet where the inhabitants of Kandor had settled, killing basically every Kryptonian but Kal and Kara. Genocide, like rape, is one of those crimes that moves a villain into a different sphere altogether, and after the end of the arc I was wondering what exactly DC was going to do to deal with the damage they'd done to Luthor's character.

As it turns out, DC responded by handing the reins of Action Comics to writer Paul Cornell and making Lex the POV character of that title. And Cornell responded by basically ignoring the events of New Krypton entirely. *shrug* In all honesty, I'm not sure what else he could have done.

Obviously I went into reading Cornell's run very angry at Luthor and hating the fact that he got away with what he did, which made it all the more surprising to me that I ended up enjoying Cornell's take on Luthor so much. So I decided to detail why I liked his character here and then ask people what they find appealing/interesting about Lex Luthor as a character, what they need to see in portrayals of him, and what their favorite bits of Luthor canon are.

A couple of caveats: the big weakness of Cornell's run is that it's part of Blackest Night, a massive Green Lantern-based crossover. As such, Lex's quest for the Black Sphere of Somethingorother is mostly a McGuffin, and I suspect Cornell's heart isn't in the plot, but in the fun of writing Lex in the process. That means the wrap-up has proved to be mostly unsatisfying, unfortunately, as Cornell has entered a sort of "Oh yeah let me tell you who the villain is and get that over with" zone. But the lead-up to it had some very interesting discussion of Lex's character.

Basically, there were three things I really enjoyed about Cornell's take on Luthor: Robot Lois Lane, Lex's self-awareness, and his focus on rationality and intellect.



Robot Lois Lane

One of the more interesting choices Cornell made was to give Lex a "sidekick." Characters generally flourish with someone to talk to and interact with, but Luthor (generally speaking) doesn't trust/respect/tolerate other humans enough to actually open up to them.

Enter Robot Lois.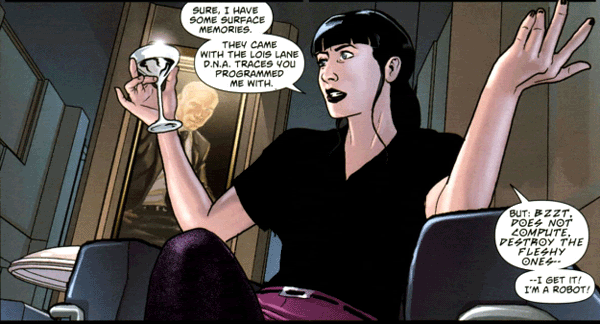 Lex had Robot Lois built in order to test and challenge him. It's also, I think, hinted that at some level he understands that Lois is important to Superman. Currently infected with the greed of the Orange Lantern ring (don't ask), he craves acquiring things, and I believe subconsciously he sees Lois as a thing which is Superman's. Lex being attracted to Lois has been semi-canon in both the Silver and modern ages, so it's interesting to see this take on it.

Their relationship is openly sexual, which is startling but works in the context of the title, I think. As Luthor tends to see people as objects, it's no surprise he would treat a robot much as he would treat a person...maybe better. I think what surprised me, really, was the implied relish and enjoyment of the sex--Luthor, like Joker, never strikes me as a sexual being, but he's very believably having fun here. Take the scene where R. Lois copies Gorilla Grodd's voice patterns to get into his hideout:




Or Lex's rather sheepish and yet smug reaction to Death peeking into his sexual fantasies: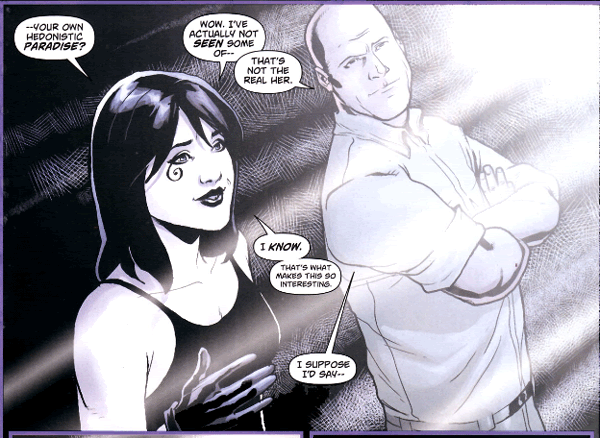 Making things more interesting and tragic is that R. Lois is sentient, and not exactly happy about her role in all of this (that is, she's been secretly programmed by Brainiac to betray Lex), as she explains to Brainiac mentally: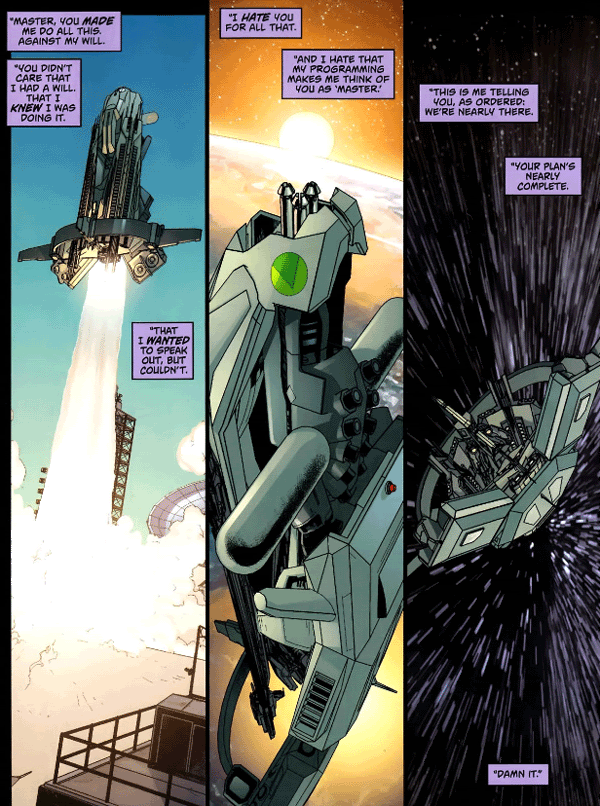 Sadly, R. Lois is sacrificed by Lex to get to the McGuffin, but I'm hoping she can come back somehow, because I found her fascinating.

Self-Awareness

Cornell's Luthor has a self-awareness that can be very charming. Here he shows R. Lois his vision of a world that would satisfy him:




The smirk that artist Pete Woods gives him makes the scene, that ever-so-slightly embarrassed look.

Elsewhere he's particularly deadly and efficient because of this self-awareness, as in a sequence where he's being run through some of his deepest fantasies: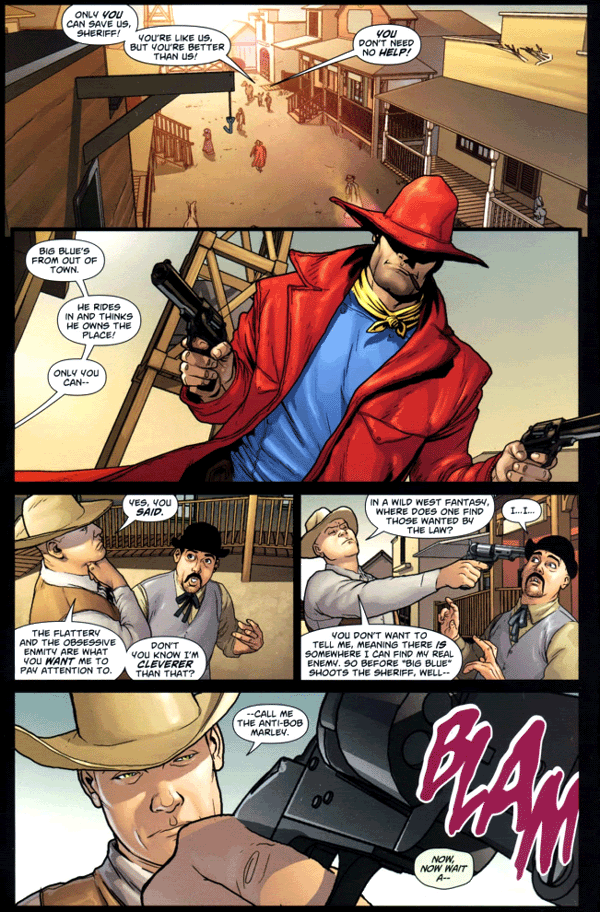 The sequence ends with a moment where the self-awareness is almost painful for just an instant, where Lex is wryly uncomfortable with his own fantasies as he comments to a dream version of R. Lois: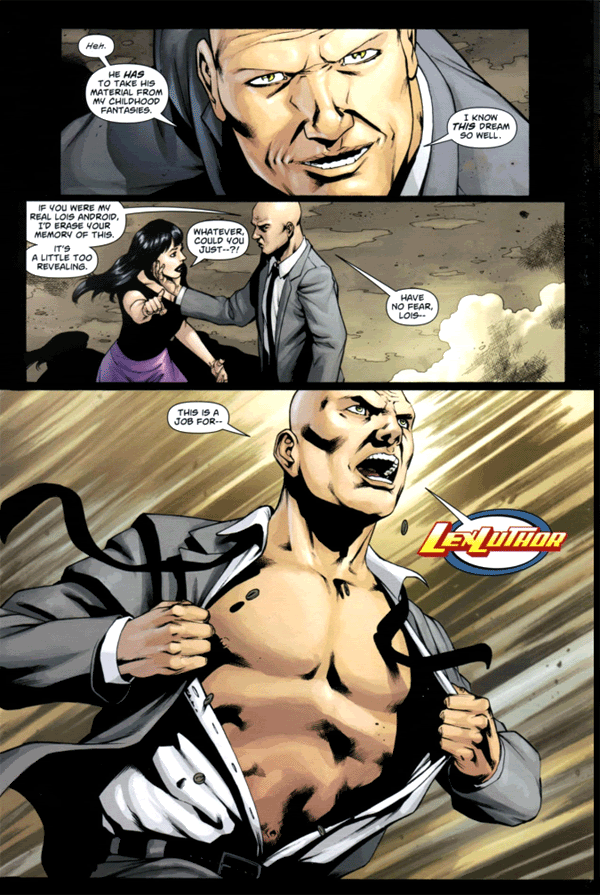 However, Cornell is careful to include scenes that remind the reader that Lex is no secret woobie, as in the fight with the Orange Lantern Larfleeze, who takes one of his employees hostage: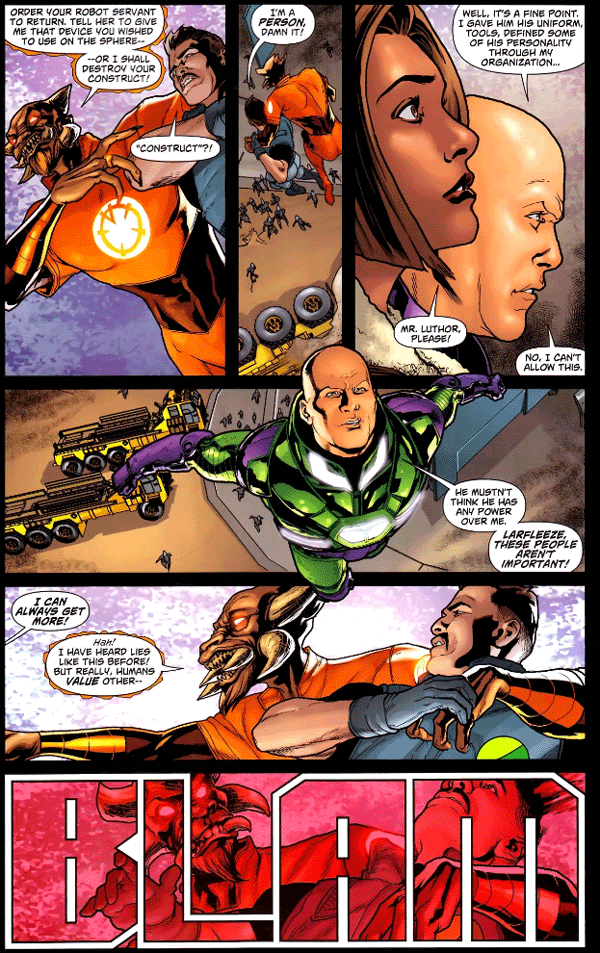 Charming, wry, sarcastic--Luthor is still also completely willing to sacrifice others without a moment's hesitation, just to prove a point.

Rationality and Intellect

Perhaps the most useful thing that Cornell has done (for me at least) is to give Luthor a motivation I can understand, one beyond megalomania. Cornell's Luthor is a scientist and seeker of knowledge, a person who wants to understand the world intellectually--in order to control it, of course. Science is based on prediction, and prediction enables control. Cornell makes this most explicit in the issue where Luthor faces down Joker (the avatar of chaos as always), and Joker mocks that impulse: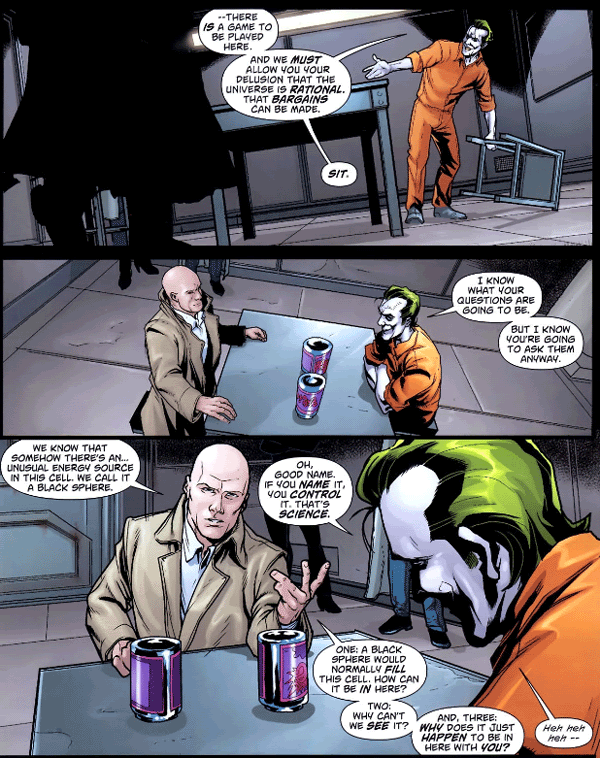 In his conversation with Death (where Lex is very well-written and Death much less so, sadly reduced to something of a foil for Luthor), Lex sums up this antagonistic relationship with existence: the meaning of life is the struggle to become better (more powerful), to always be reaching upward.




For me the perfect summary of this is in a scene where Luthor has a choice: faced with a mind-controlled Deathstroke, does he give in to the mind-control himself and thus have a better chance of winning the fight, or does he fight the control even though it will leave him defenseless?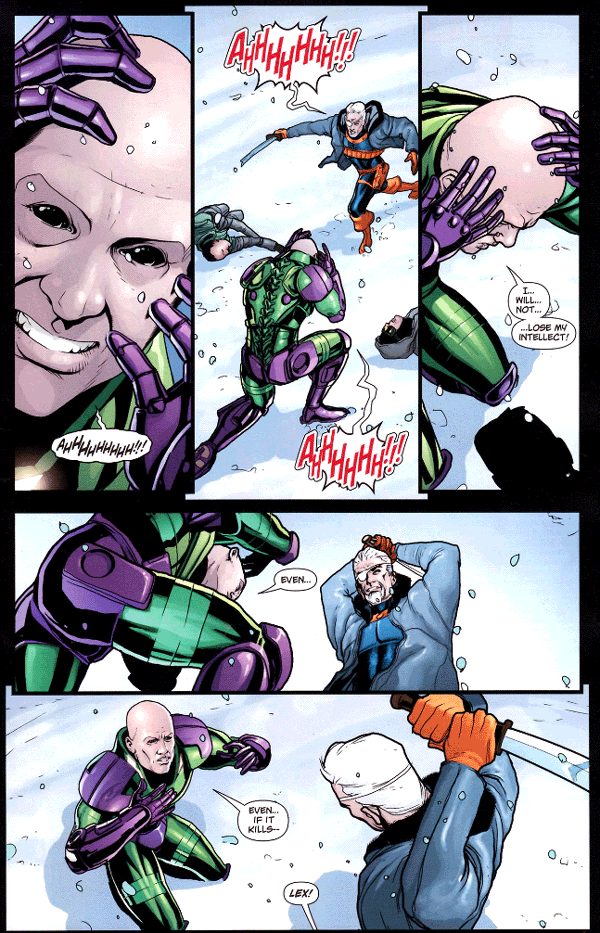 This version of Luthor is his intellect, and stripped of that he sees no point in survival. It fits Luthor and his relationship with Superman, and at the same time I find it a character trait I can't help but admire.



Lex Luthor is not a character I've ever spent a lot of time thinking about, as I grew up with the Silver Age Mad Scientist, mostly. However, Cornell's run has made me think about him more carefully and have a new appreciation for him, and even though the story looks to be fizzling quite a bit, I'll admire his run for that. I'm curious what other people like to see as character traits in Luthor, and which versions of him you find most compelling?